T

his video was created as part of a comprehensive Digital Experience Strategy engagement to imagine a future-state customer experience. The video shows how a child-care provider could meet the needs of parents in a way that allows them to earn a new role in their customers lives. Building on insight and empathy, this story defines a better customer experience, a clear expression of the brand - and a way to build deeper understanding of the customer and the state of the business.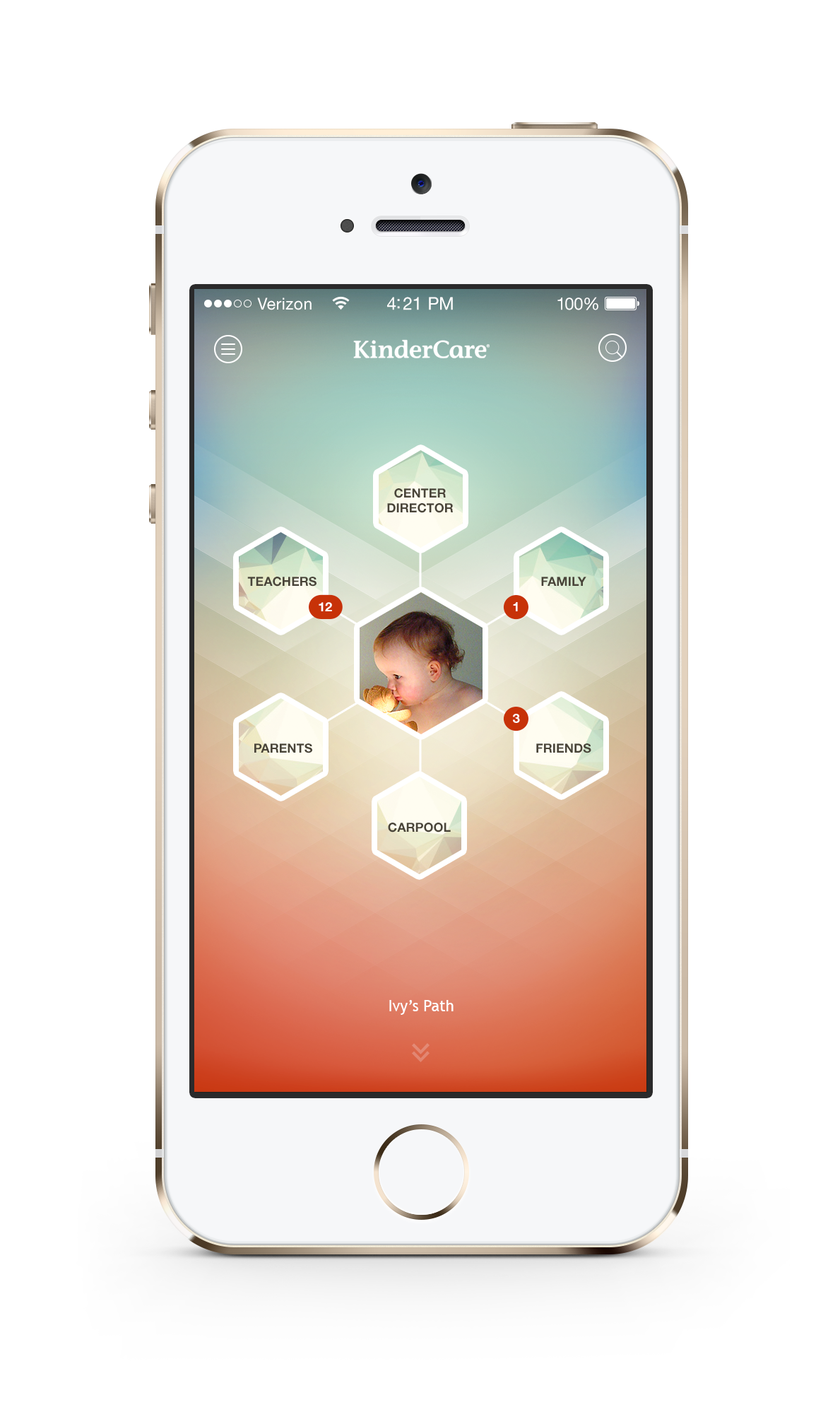 Aligning around a shared vision that puts families first
Deciding where and how your child will be cared for is a conscious, emotionally weighted choice that parents make every day. The decision can be validated—or revoked—at any time, making it notoriously difficult for child care centers to earn and maintain brand loyalty. The entire industry is plagued with high rates of customer attrition.
KinderCare understands this all too well. Their preschool curriculum and child care are highly regarded, but with more than 1,500 child care centers throughout the U.S. and employing more than 30,000 people, it's difficult to ensure a consistent and engaging family experience across all the centers. They must also contend with high turnover of educators and caregivers, which increases not only costs but also negative brand perception. 
Redesigning KinderCare around the customer
KinderCare knew it was time to focus more on their customers, that the digital channel was critical, and that they would likely need to revamp corporate-wide systems. Almost all the moments that are important to families happen in the local centers throughout the day, during personal interactions between center staff and the child. But there was no way for parents to see these critical interactions or to build a relationship with their child's teacher, making high staff turnover a more significant concern. 
They needed a way to connect the love and concern parents have for their children with the brand they trust to care for them. Having partnered with Connective DX on successful digital experience programs for a number of years, KinderCare called on us to help reimagine the way their child care centers communicated and built relationships with families.
Transformation requires a shared vision
One of the core competencies for transforming digital experience is aligning the digital channel with the business strategy and customer needs. The organization must agree upon a "North Star" to align goals and to prioritize and map initiatives. During a series of work sessions, we collaborated with teams from different departments across KinderCare, including leaders and influencers from marketing, IT, education services and operations. And, together, we crafted a shared vision that put families first. This vision was captured in a set of Experience Principles:
•Everything communicates

To ensure all KinderCare stakeholders were aligned, had input, and took ownership of the new experience strategy, we used our AIM Digital Experience Framework®, with a process and tools encompassing three steps: align, imagine, and map.
Imagine brainstorming sessions
Using a mix of traditional and customized brainstorming, grouping and prioritization techniques, these "Imagine" sessions informed the overarching vision, use cases and potential features that would deliver utility and value for KinderCare customers.
After decades of driving growth through acquisition-based programs, KinderCare had a staggering number of legacy backend systems. Rather than tackle the massive integration and all the associated initiatives at once, we established priorities and a sequencing of events to develop a multi-year roadmap, taking into account relative customer benefits and impact, interconnections of systems and dependencies.

The Family Experience Platform delivers on the shared vision of an integrated system that connects parents, teachers, center directors and staff, and KinderCare corporate services. The platform ensures the lines of communication are open, establishing a strong relationship between the center staff and parents, as well as maintaining the feeling of connection to their child when they aren't together. The vision for the platform combines website, mobile app, community, and social to enable the communication that fosters relationships and builds community to create and sustain those human relationships.

KinderCare experience strategy offers a plan for shared action. 
A new business strategy is only as good as the extent to which it's shared. To make the transformation to customer obsession, the entire KinderCare organization needs a clear understanding of the North Star, the road ahead, and what it means to each employee. To support internal KinderCare communications we framed the work ahead "in a child's time" with a life size growth chart that showed how the organization would evolve along with the children in their centers. 
To further support internal communication we crafted a video telling the story of Sara, the primary customer persona, and her experience through the years with KinderCare. Using the Family Experience Platform Sara is able to feel connected with her daughter Ivy and build relationships from infant care through preschool graduation.
~